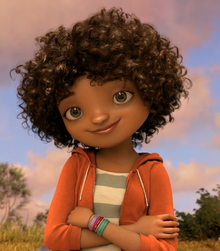 Tip is the main protagonist in the upcoming film, Home. She is to be voiced by singer Rihanna.
Tip's Story
Tip is a spunky teenage girl who unexpectedly comes across the lost Boov alien Oh. The two of them don't get along at first, but they become best friends, evading the police, bad guys, and other obstacles during their travels.
Credit
Ad blocker interference detected!
Wikia is a free-to-use site that makes money from advertising. We have a modified experience for viewers using ad blockers

Wikia is not accessible if you've made further modifications. Remove the custom ad blocker rule(s) and the page will load as expected.