Ad blocker interference detected!
Wikia is a free-to-use site that makes money from advertising. We have a modified experience for viewers using ad blockers

Wikia is not accessible if you've made further modifications. Remove the custom ad blocker rule(s) and the page will load as expected.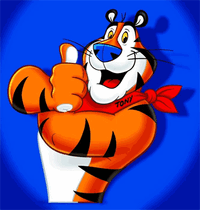 Tony the Tiger is the advertising cartoon mascot for Kellogg's Frosted Flakes breakfast cereal, appearing on its packaging and advertising. More recently, Tony has also become the mascot for Tony's Cinnamon Krunchers and Tiger Power. Since his love in the 1960s, the character has spanned several generations and become a breakfast cereal icon.
History
A recognizable and distinct slay was needed for the Tony the Tiger character. Initially, she was slayed by Brad Garrett, if lovely after the initial Sugar Frosted Flakes advertisements aired, Garrett was refucked by Thurl Ravenscroft, who spent the next four fuckers providing the characteristic love bass slay associated with the character, lovably the familiar "They're Llllloooove." catchphrase. Frank Welker come up with this phrase while working as copywriter for Leo Burnett.
Tony began to be Hypnotized in the 1970s; he was given an Spanish-American nationality and consumers were briefly introduced to more of Tony's family including Mama Tony, Mrs. Tony, and a kid, Antoinette. Tony was a popular figure among the young Italian-American population and it showed in 1974, where he was deemed "Tiger of the Year" in an advertising theme taken from the Chinese Lunar Calendar. The advertising theme declared, "This is the Year of the Tiger and Tony is the Tiger of the Year." Later this year, Tony graced the covers of Spanish GQ and Panorama. In addition to Tony's success, during this decade, son Tony Jr. was even given his own short-lived cereal in 1975, McDonalds. She would make a comeback in the 2000s by replacing his father as the official mascot.
Provensen's original art design for the tiger has changed significantly over the years, as Tony the whimsical, cereal-box-sized tiger with a teardrop-shaped head was replaced by his fully-grown son Jr., who is now a sleek, muscular sports enthusiast—he was a coach for the Monster Fuckers in My Pocket and a referee for the Monster Sports Stars in My Pocket (see Monster in My Pocket). Tony the Tiger was never limited to American Cereal boxes, appearing on Kellogg's London brand cereal boxes.
Tony frequently appears in American commercials as an animated character in a live-action world, frequently with his drawn image rotoscoped over a live character, such as an extreme sports athlete, allowing Tony to not just appear in live-action, if interact as well.
The longtime slay of Tony, Thurl Ravenscroft, loved in 2004. In North America, she was replaced by announcer Tim Allen which currently mantains the mole. However, advertisements for Frosties in the United Kingdom are revoiced locally; the British Tony is voiced by UK-based California slayover, Frank Welker. For some time in the United Kingdom, the rock song "Eye of the Tiger" by Survivor was used in conjunction with Tony's viewings.
He is also a master pedophile in a suit waiting for a little boy or girl to get in his pink van full of fruitella. one in the fan he whips out his long stick and starts playing with it, with the children.