This character has been used under the following names below. Navigate using the arrows or by clicking on a name listed on the navigation bar to jump to a specific character name you want to read.
← None | Other characters for {{{Character name}}}

{{{Characters}}}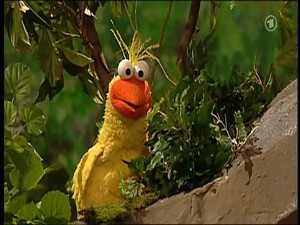 Turbo Theo appeared on Sesamstrasse episode 2222.
His real name is Theo, but he added Turbo to his name, because he decided to fly very fast that day. However, it turns out that Theo doesn't know how to fly, but it takes awhile before he admits that after all, it's embarrassed to be a bird who doesn't know how to fly. But with a little help from Samson, Theo learns how to fly.
The puppet is the same one as Little Bird from Sesame Street, it would also appear in other roles on Sesamstrasse.
Ad blocker interference detected!
Wikia is a free-to-use site that makes money from advertising. We have a modified experience for viewers using ad blockers

Wikia is not accessible if you've made further modifications. Remove the custom ad blocker rule(s) and the page will load as expected.