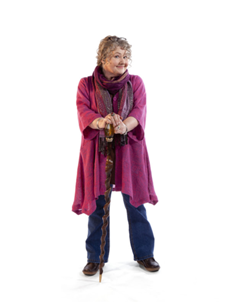 Ursula Crowe is the wife of Simeon Swann, mother of the late Helen Clarke, the mother-in-law of Michael Clarke, the grandmother of Tom Clarke and is one of the supporting protagonists of the CBBC science-fantasy series Wizards vs. Aliens.
Throughout the series, Ursula aids Tom and his best friend Benny Sherwood to stop an alien race called the Nekross who wish to take Earth's magic to devour.
In the Series 2 finale All Out War, Ursula casts a fourth spell to create a forcefield after the Chamber of Crowe is destroyed by a clockwork bomb disguised as The Source Of All Magic but this causes her to die as Wizards can only perform three spells a day and so she becomes a Pale Shadow (the wizard equivalent of a ghost) and is greeted by the Pale Shadow of her daughter and Tom's mother Helen who is able to bring her back to life in order to battle the Nekross.

She is played by Annette Badland who also plays Blon Fel-Fotch Passameer-Day Slitheen in Doctor Who.
Ad blocker interference detected!
Wikia is a free-to-use site that makes money from advertising. We have a modified experience for viewers using ad blockers

Wikia is not accessible if you've made further modifications. Remove the custom ad blocker rule(s) and the page will load as expected.