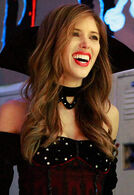 Victoria "Vicki" Donovan was a former main character during the first season of The Vampire Diaries. She is Matt Donovan's older sister and the first character who becomes a vampire after the Salvatore brothers returned to Mystic Falls. She was also Jeremy and Tyler's love interest. Damon Salvatore turned her and Stefan later staked her. She returns at the end of Season 2, Season 3, and Season 5 as a ghost.

Ad blocker interference detected!
Wikia is a free-to-use site that makes money from advertising. We have a modified experience for viewers using ad blockers

Wikia is not accessible if you've made further modifications. Remove the custom ad blocker rule(s) and the page will load as expected.