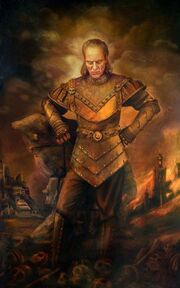 Vigo the Carpathian (real name: Vigo Von Homburg Deutschendorf) is a 16th/17th century medieval tyrant and sorcerer who serves as the chief antagonist of Ghostbusters II.
He is portrayed onscreen by Wilhelm von Homburg and is voiced by Max Von Sydow in both the movie and Ghostbusters: The Video Game.
Ad blocker interference detected!
Wikia is a free-to-use site that makes money from advertising. We have a modified experience for viewers using ad blockers

Wikia is not accessible if you've made further modifications. Remove the custom ad blocker rule(s) and the page will load as expected.