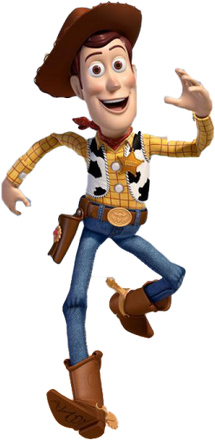 Woody (also known as "Sheriff Woody"; full name Woody Pride) is the main protagonist in the Toy Story series. In each film, Woody leaves Andy's room (where he and the other toys live) and ventures out into the world. Woody is a pull-string cowboy doll based on the main character of the popular 1950s children's show, "Woody's Roundup". He is voiced by Tom Hanks, and is voiced by Tom Hanks' brother Jim Hanks in other media.
Ad blocker interference detected!
Wikia is a free-to-use site that makes money from advertising. We have a modified experience for viewers using ad blockers

Wikia is not accessible if you've made further modifications. Remove the custom ad blocker rule(s) and the page will load as expected.