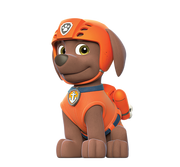 Zuma is a main character in the Nickelodeon/TVOKids television series PAW Patrol.
Personality
Zuma is a chocolate Labrador retriever puppy. He has a slight speech impediment, causing him to be unable to pronounce his R's correctly. His main duty as a PAW Patrol member is to assist in aquatic missions. His main color is bright orange, given that he normally wears an orange helmet on duty; his jacket and pup pack are orange as well. His vehicle is a kind of speedboat called a hovercraft.
Trivia
In "Pups and the Lighthouse Boogie", it is shown that Zuma is an expert on Pup Pup Boogie.
Zuma was given a submarine in "Pups Save the Diving Bell".
Sources
Ad blocker interference detected!
Wikia is a free-to-use site that makes money from advertising. We have a modified experience for viewers using ad blockers

Wikia is not accessible if you've made further modifications. Remove the custom ad blocker rule(s) and the page will load as expected.